Free (and Easy) Methods of Taking Screenshots in Windows

Eric Moore, CUGG

August 11, 2007
As the old saying goes, a picture is worth a thousand words.
In the world of computers, a picture (or screenshot) may be worth a thousand words expended trying to transcribe a cryptic error message or describe a strange phenomenon in Windows.
In many cases a free and easy screenshot feature of Windows can save you much time and trouble when seeking help from a knowledgeable source, such as other members on the CUGG mailing list.
Capturing the Text of an Error Message
The error messages that come up in the Windows environment can vary from the transparent to the opaque and (in some cases) inscrutable and bizarre. A relatively short message may be easily transcribed into a text document or written down on paper. For more lengthy or opaque messages, your job will be easier if you can copy the text of the message and paste it directly into a document to e-mail to someone. As a simple example, if I attempt to give a file or folder the same name as an existing one, an error message will appear telling me I must use a different name. When the error message appears, I copy it by pressing CTRL+C. I can then paste it into a document (such as the Word document I am composing right now) by pressing CTRL+V. The result (with some modest text formatting) resembles the following:
---------------------------
Error Renaming File or Folder
---------------------------
Cannot rename New Text Document: A file with the name you specified already exists. Specify a different file name.
---------------------------
OK
---------------------------
The first line of text, Error Renaming File or Folder, is the title of the dialog box. The message is listed below the second and third series of hyphens and is followed by an indication of which button(s) were displayed. In this case, the file renaming could not be completed and the only option I had was to click OK to acknowledge the error.
This method is especially useful for long, cryptic messages such as The NTVDM CPU has encountered an illegal instruction. CS:054f IP:01f6 OP:2e 63 61 63 68 Choose 'Close' to terminate the application. However, it does work for every error dialog. In such cases, a graphical screenshot is in order.
Taking a Screenshot of a Single Window
When all you need is to take a screenshot of a single window (or error dialog box), you should hold down the ALT key and press the Print Screen key, which is usually located in the top left area of the keyboard, next to the Scroll Lock key. (If you are using a laptop, the location will be different and you may need to hold down a third additional key such as Fn.) Pressing this key combination will copy a picture of the window to memory. You can then open any program that supports pictures such as Microsoft Paint, Adobe Photoshop, Microsoft Outlook, or Microsoft Word, and paste the image into a new document. The following is an example error dialog with an error message only a programmer (or computer) could love.

Taking a Screenshot of the Entire Windows Desktop
If you need to capture more information than a single window or dialog box, you can do so by holding down the Shift key and pressing the Print Screen key. The following is an example of my work space, including the document I am composing for this article.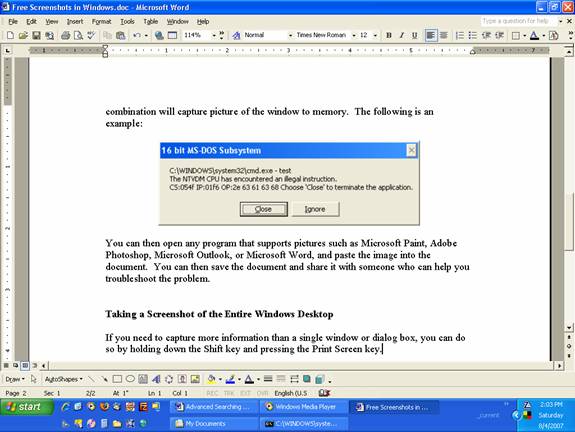 Note that this screenshot captures everything including the taskbar. Had my Microsoft Word window been smaller, you would have also seen the other application windows I had open or even portions of my desktop.
When All Else Fails
When all else fails and manually transcribing the error message on paper is inconvenient, and no one is available to look at the screen while the error is displayed, take a photograph. If you have a digital camera, the more the better as you can transfer a copy of the photo to a file on your computer and then e-mail it. Just be sure to adjust the focus to get as detailed a photograph as possible.