Creative Computing: T-shirt Transfers

Duane & Nancy Swope, CUGG

July 2002
Duane and I have been having fun putting our digital pictures on T-shirts. A few years back we were designing our own T-shirts and gave it up as we ruined many T-shirts as we could not make them work right. We would end up with only part of the design going on the shirt and thus the shirt was ruined. It was much harder than it is now. Recently we bought some Burlington T-Shirt Transfers. It's a new "PEEL-AWAY" process now that makes transferring easier than ever. You can now put the pictures on dark T-shirts also with the new process that recently came out. They have improved the transfers tremendously.

We were so amazed how easy a process this is using a program like Print Shop 12 or there are many T-shirt programs you can purchase. This program lets you add words or graphics to your pictures if you would like or just use your digital pictures alone on the T-shirts. It is lots of fun to play around with the program and design something original. They come out looking really professional. For about one to two dollars for a transfer it's not really expensive and would make wonderful gifts.

First of all we learned to shop around for good quality T-shirts and have found some made by St. John's Bay. They were on sale for $6.99 and regularly sell for about $12.00. It just does not pay to buy cheap T-shirts as they wrinkle and then you are disappointed because you have this beautiful picture and it's on a T-shirt that is poor quality and wrinkles. You might even be able to find better buys than we did if you look.

Design your shirt in a program like Print Shop 12 and then print it out on your transfer paper. The program automatically flips the picture so it is all in the right direction. We have used a HP DeskJet 952 printer and had wonderful prints come out. There are usually settings for the paper you are using that comes with your printer. After it's printed out then you have to peel off the backing which is the hardest part. We find that if you make a small tear then it peels off really easy. The print is then laid on the T-shirt and a sheet of paper that comes with the package is laid on top of that and you iron it on. We have not had a failure yet with the ironing process which is so different than years ago when we did this. You give it a few minutes to cool off the fabric and then peel off the top paper and there is your wonderful T-shirt with one of your favorite digital prints.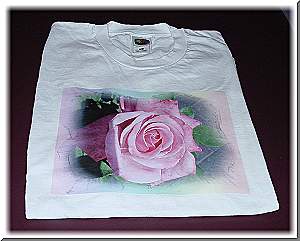 Wash and dry your new T-shirt to get the sizing out. Get out your ironing board and iron and set it on cotton. Press your shirt with the iron to make it smooth. You do not use steam in your iron, it has to be with a dry iron. Within minutes you are ready to iron the picture on your shirt.

All the instructions come with the Burlington Premium T-Shirt transfers. The washing instructions are included in the package. We have found the shirts hold up in the wash fine if you are careful with them. If you treat them like you do some of your better clothing when you wash them you should have few problems. You need to turn them wrong side out before washing.

Some hints we have learned through all of this process is to print it out first on regular paper to make sure it looks like you want it too and not ruin the transfer paper. Check any lettering you may have added to make sure it is not backwards. When it is the way you want then put your transfer paper in the printer and be sure it's facing the right way. Look around in the stores at T-shirts for ideas and also to check placement of the design they use. It's a good idea to do some measuring when placing your design on the shirt; it is pretty easy to get them a little crooked. We have also used programs like Adobe Photoshop or Micrsoft Picture It! with different filters and have come up with really creative ideas. These pictures than can be imported into your Print Shop 12 program.

We have found only one problem with all of this and that is you have so much fun making your own shirts that pretty soon you have more T-shirts than you could ever wear. We wanted some patriotic T-shirts for the 4th of July and could not find what we wanted in the stores. We came home and designed our own very fast with one of our flag pictures we had already taken. These T-shirts then were our own creation and you are not going to find someone else wearing the same thing. Duane and I now have matching shirts and they are such fun to wear as you can always say "I made it myself" when asked about them.

These transfers can be used on bags, hats and many other things. They would make great Christmas or birthday presents or you can make a T-shirt in a few minutes for yourself to wear to a special party, etc.

We would be glad to help anyone with this if you run into problems.

Give it a try and see how much extra fun you can have with your digital camera.